Paulmen Seals Limited strive to excel in providing all customers with an exceptional service. Successes in both the domestic and international markets have demonstated Paulmen Seals ability to exceed customers expectations.
Head Office : 312 Church Street Penrose, Auckland, New Zealand
Postal Address: PO Box 12107 Penrose, Auckland, New Zealand
Tel: 09 636 4221 Fax: 09 636-5593 E-Mail : sales@paulmen-seals.co.nz




Design
Technical Anaylsis
Extensive Mechanical Seal Stock will ensure that your needs are covered with quick turnarounds, even for those one off specials….
Our highly experienced staff, in all areas of our business, ensures Total Customer satisfaction, as all design, manufacture and modification work is undertaken in-house.

Castings
Impellers
Bearing Housings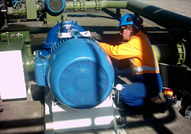 Contact Paulmen Seals Limited as we are more than happy to discusss your requirements and see how we can help.